This summer found me immersed in French — language, culture, and fashion — as I recorded one of the most challenging and captivating projects of my career. Voicing Rhonda Garelick's Mademoiselle: Coco Chanel and the Pulse of History for HighBridge Audio demanded my most impeccable French pronunciation and lyrical story-telling, and I enjoyed every minute. While fashion has never been my particular passion, I could not help but see the world differently (and understand and appreciate couture far more) after producing the complicated narrative of one of the most complex women in world history. Coco Chanel was not often a likable character, but her razor sharp intelligence, immense talent, surprising generosity, unfailing resilience, and uncompromising personality cannot fail to intrigue listeners and readers.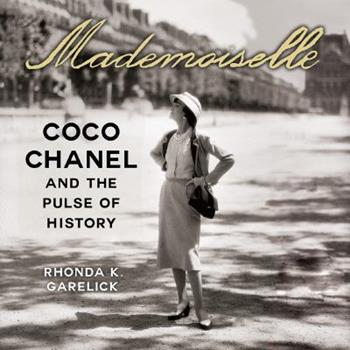 In celebration of the publication of Coco Chanel and the Pulse of History, HighBridge Audio is giving away one copy of the audiobook. Just comment below for your chance to be randomly selected as a winner of the remarkable story of a cultural icon. I'll choose a winner on Tuesday, October 7th. And if you're in New York this evening, consider attending the book launch event at The Museum of the City of New York, A Classic American Look: How New York Saved Coco Chanel, where Rhonda will be interviewed by New Yorker writer Judith Thurman. I can't wait to meet Rhonda in person, and to celebrate this special book. 
**********
I wanted to learn more about Rhonda, who is impressively talented in her own right. Not only is she a very fine writer with a growing list of fascinating books, she's a Professor of English in the College of Arts and Sciences at the University of Nebraska-Lincoln, as well as the founder and director of the Interdisciplinary Arts Symposium at the Hixson-Lied College of Fine and Performing Arts. Rhonda was extremely generous with her time, answering my many questions about the inspiration for Mademoiselle, her writing process, and her own appreciation for couture. Rhonda is an inspiration. Read on!
What inspired you to write about Chanel?
Well several things: First, I have long studied and written about theater, and about big, 'spectacle-people' as I call them.  My first book, Rising Star, was about dandyism, and the dandyist movement was all about turning one's own life into an art work. Chanel absolutely accomplished that, so I see her as a latter-day dandy, in a way.  And then, about nine years ago, I was invited to contribute an essay on Chanel for the Metropolitan Museum Costume Institute's catalog for their Chanel show. That started me researching her even more.
The more I studied, the more I saw that in Chanel's case, her own 'art work,' her designs AND her persona, had the quality of  a contagion. We, the women of the developed world, all still bear her imprint–it is an uncanny level of influence, and one I wanted to understand better.How did you approach your research? Was there a point when you stopped researching and started writing, or did you do both simultaneously? How do you know when you know enough to write the story?
That's such a good question.  My research took me all over the world. I decided I would not just research Chanel or just fashion, but instead try to weave Chanel into a larger political and cultural context. This meant studying the period she lived in and the lives of those who most influenced her.
I unearthed diaries and correspondence. I interviewed people who'd known her. I researched the films and ballets and plays she costumed, the art work of her collaborators.  I read vast amounts of European history; I studied fashion and design history; I read millions of articles. I did 'hands-on' research, trying on garments and jewelry, taking photos. I haunted libraries, archives, historical societies. I did research in five countries.
In addition to that, one big piece of the research involved gaining access to the very private archives of the House of Chanel in Paris.  It took me two and a half years just to be ALLOWED in. I was vetted like crazy and had to be interviewed finally in person.  Once I was in, though, they could not have been nicer to me.  The staff at the Chanel archives permitted me unfettered access over many years. I 'commuted' back and forth for quite a while, spending weeks at a time there, working in their offices.  I am very grateful for that.  Not only did I find wonderful materials in their archives, but I got the chance to "feel" what it is like working for this multi-billion dollar luxury goods company. I worked alongside staff members, heard them talk about their jobs and lives, and could interview them too about their own relationship to Chanel–the brand and the woman.  They all still refer to Coco Chanel as "Mademoiselle," as if she might walk into the office at any moment.
As for when you know you "know enough": You never know, exactly. But in truth, it's not about "knowing facts" so much as it is developing a through-line, an interpretation that holds and that helps make sense of the large picture.  Once I could "see" all the vast quantities of information through the prism of my own historical and cultural interpretation, I knew I could start writing. Then, it's a balancing act of continuing to learn and discover new information while also writing.  I have a lot of experience doing this with other books and articles I have done. My training as a scholar helps a lot here.Where did you feel most connected to Chanel? What was your favorite location in Chanel's life? Is there anywhere you weren't able to visit, because it was off-limits or no longer extant?
Yes, I visited a number of her haunts. I think I felt the most connected to her paging through the yellowed, dog-eared log books of the Maison Chanel from the late teens or 1920 or so–where handwritten notes in fountain pen listed the names and addresses of her staff, including her own younger sister, Antoinette (who later, tragically, committed suicide, as did Chanel's older sister, Julia), along with the salaries paid, etc. (Antoinette earned 10% commission on sales.) I could see which models were paid more than the others (often the Russian girls, at the time, some of whom were exiled aristocracy who'd fled the Bolshevik Revolution). I could see who was fired and the reasons listed. Oh, and I also felt a weird moment of connection to her when I was allowed a private tour of her apartment and given her glasses to try on for myself. I am near-sighted, but boy, her vision must have been awful! They were so thick and heavy, and the world just went all liquid and blurry when I tried them on.Did you grow up with an awareness or and a passion for fashion in general? For Chanel in particular?
I have loved fashion since I was a toddler.  Family photos show me wearing inappropriately elaborate outfits for every occasion.  I carried a small, circular velvet pocketbook every day to kindergarten. My mother was an influence in this definitely. She loved fashion, and shopping with her was a favorite part of my childhood and teenaged years.  I think fashion functions for women much the way sports does for men: as a way to bond and talk easily.
How did you avoid the mysterious pull you described in your book — the overtaking of biographers by Chanel's voice? Did you feel it? Was it an effort to resist?
Well, it was like the undertow in an ocean–I could feel it and had to try to resist it consciously–to dig my toes into the sand beneath the water.  Chanel had a genius for allure.  And even though I was trying to be objective, to be 'critical' in the best sense, the pull of the beauty of her clothes, the glamour of her life, the seductions of working amid the Maison Chanel–with its glorious scents and sights–it was a challenge! But as I often tell my students, you can enjoy the pleasures of a subject while still asking yourself *why* you feel that pleasure.  That is what I tried to do myself. And in fact, my book is precisely about how those seductive pleasures operate, and why.How did you choose what to wear when going to an interview for this book? What did you wear?
Tavia, you are perceptive! It's impossible not to worry about that, especially when summoned for an interview with a high-level executive at the Maison Chanel. I cannot afford most haute couture. However, I love clothes and am very respectful and mindful of their power to communicate.  I have a wonderful, dark navy, fitted Lagerfeld suit (bought at a consignment store, his own line, not designed for Chanel) that I wore for some occasions at Chanel, which I hope people recognized or appreciated at some level. I have a great red Balenciaga suit (Balenciaga was one of the few fellow couturiers Chanel ever praised). I like to buy couture at consignment stores, and mix it up with pieces of all kinds–from H&M (which does tons of Chanel-like clothes),Trina Turk, Elie Tahari…I got a little thrill one day when a coat I had bought at H&M (really!) was praised by a Chanel staff member known for her unforgiving and discerning eye!
Was there anyone you were not able to interview that you would have liked to (i.e., Lagerfeld)?
I did try to interview Mr. Lagerfeld, and while I think he would have been open to it personally–he is clearly someone eloquent and interested in ideas–he is guarded quite closely by a cadre of 'minders' who work very hard to keep people like me (writers, journalists, scholars) from him. In the end though, for me, that's *part* of the story, not an impediment to it. If Mr. Lagerfeld is set apart from the world and guarded like a kind of religious idol, well, that's meaningful in its own right. And I do write about the cult-like atmosphere that reigns at Chanel Inc.
What surprised you most about Chanel? 
I think the most surprising thing about Chanel was her tragic vulnerability.  Not just in old age, or even in her sad childhood, but when she was already very famous and successful and at the top of her game.  In letters and diaries of one of her lovers, Duke Dmitri Romanov, which I had unlocked and translated by a Russian scholar, I learned that Coco was always very insecure around Dmitri, afraid he didn't love her enough, worried about pleasing him. This was true even though she was gaining world fame and even supporting him with an allowance at the time. She was very fragile in some ways–and grew more and more defensive to cover that up.How do you feel about Chanel, after everything you learned about her? I admit that while I find her a sympathetic character, I don't find her to be likable. What's your feeling about her, after spending so much time with her?
No, I think I know too much to "like" Chanel. But I have compassion for her and I suppose the strongest feeling I have is one of marvelment. Her story is almost not to be believed–that someone with her background–a rural, 19th century peasant orphan, a girl, no less!–could found an empire based on her own aesthetic, an empire that lives on even decades after her death, for about a century of business and counting, that's astounding. I have said it before: I think she remains the 20th century's most influential woman of the Western world.
**********
Thank you to Rhonda for her graciousness in answering my many questions, and to HighBridge for their kindness in offering the title to a lucky listener! Remember, just leave a comment below to be entered into a random drawing for the audiobook.