and today I have the great pleasure of sharing one of these rare projects with you!
I was thrilled to be cast recently to narrate Jessica Lawson's The Actual and Truthful Adventures of Becky Thatcher, a reimagining of the story of Mark Twain's classic character. When I read the audition copy from Dreamscape Audio, I absolutely fell in love with Becky's voice and Jessica's writing. I always connect deeply with whatever material I'm narrating — one must, in order to do the very best possible job — but Becky instantly came alive for me in a way that is unique and very special. Though it would have been better for me to forget about the potential job, in case someone else booked it, Becky tumbled around in my head and heart until a few days later, word came that the project was mine! Jessica thought my voice was best for her story, and there could have been no greater gift or news.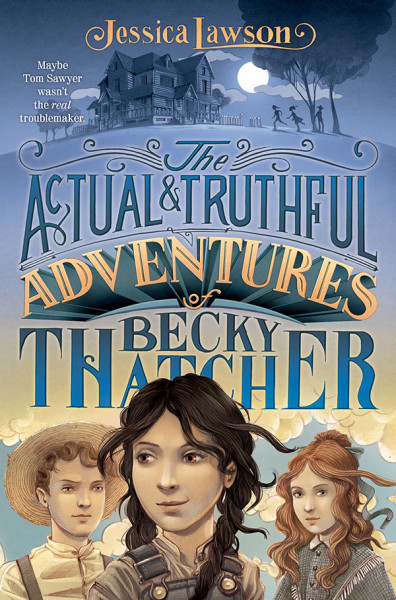 There are too many states between us for Jessica and me to meet for coffee, but we've been "talking" on social media and by email ever since. I wanted to make sure that everyone knew about this special book, so Jessica and I traded interviews on our blogs. You can read my answers to her questions here, and her musings in answer to my questions are below.
Dreamscape has generously offered to provide a copy of the audiobook for a special giveaway, and all you have to do to enter is comment on this post! Whether you're entering for yourself or for a young listener in your life, I'm confident the story will captivate you as much as it did me. This is one you definitely don't want to miss!
Jessica, tell us about The Actual & Truthful Adventures of Becky Thatcher.
The novel is part origin story, part retelling of Mark Twain's The Adventures of Tom Sawyer. It's a middle grade book, which means that its main audience is for readers 8-12 (or grades 3-7). Here's a summary:
In 1860, eleven-year-old Becky Thatcher is the new girl in town, determined to have adventures like she promised her brother Jon before he died. With her Mama frozen in grief and her Daddy busy as town judge, Becky spends much of her time on her own, getting into mischief. Before long, she joins the boys at school in a bet to steal from the Widow Douglas, and Becky convinces her new best friend, Amy Lawrence, to join her.
But the theft doesn't go as planned, and Widow Douglas ends up being unfairly accused of grave robbing as a result. So Becky concocts a plan to clear the Widow's name. If she pulls it off, she might just get her Mama to notice her again, as well as fulfill her promise to Jon in a most unexpected way. That is, if that tattletale Tom Sawyer will quit following her around.
What inspired you to place Becky Thatcher center stage, and to tell a well-loved story from a new perspective?
One day, while I was pretending to do a thorough dusting job on my bookshelves, The Adventures of Tom Sawyer caught my eye. I hadn't read it in years and found myself thinking about Tom and Huck and all the adventures they had together. And I thought about Becky Thatcher, the nicely-dressed, finely-coiffed young girl who represented all that was good and pure to Tom—a girl who was distraught at discovering that Tom had been "engaged" to someone else. At Becky's age, I was more likely to start a game of let's swipe cookies from the cabinet and make a secret hideaway under the porch than to wear dresses and play at being engaged. Being a tree-climbing, mischief-making, cops-and-robbers-playing kind of girl, I always related more to Tom and Huck than to Becky. The novel takes place during a time when things like adventure and mischief were often delegated to and expected of boys. I think part of me wanted to give Becky a chance to have a little fun as well.
How did you approach the creative process for your reimagined story? How much of Mark Twain's work did you pull from, and how did you decide what you could leave out? How did you feel working on a story that originated in writing you clearly love and know well?
Tom Sawyer is a book that I loved as a girl and still love, so if I'd overthought things, I probably wouldn't have attempted a "new" version. I would have been too intimidated. But when I started drafting, I don't think I came from a place that said, "This will get me my first book deal!" Instead, I sank into the pleasure of exploring a world that I was familiar with, and tried to approach it in a fresh way and from a different perspective. I really didn't think about the plot too much at first. It started with finding a voice for Becky's character, and her words flowed from there.
The original Tom Sawyer tale takes place over a longer period of time and tends to be a bit more episodic in nature. With my own story, I kept the timeline fairly tight (about two weeks) and the plot needed to be more focused. That meant that there were a few scenes that needed to be cut because, although they touched on moments from the original tale, they didn't add enough to the new story to warrant keeping. My agent and editor (Tina Wexler and Kristin Ostby) were both so wise in helping me shave down the story to really make it Becky's own tale.
Was Becky inspired by anyone other than Mark Twain's Becky Thatcher? Do any other literary characters or even characters from your own life contribute to this wonderful, funny, bright, tough girl?
I have a feeling that my writing is influenced by every book I've ever read, some providing more connection  than others. My version of Becky Thatcher was most likely influenced by my love for Junie B. Jones (of beloved author Barbara Park fame), Anne Shirley (from Anne of Green Gables), and Mattie Ross, a character played by Hailee Steinfeld in the new version of the movie True Grit (such a great character!).
There's an undercurrent of morality and consideration of ethics throughout the book that I really loved, particularly when so many young adult characters in contemporary fiction are written relying on snark and sarcasm, and given characteristics that seem to celebrate or at least make no apology for selfishness, pettiness, jealousy, and other human weaknesses. I appreciated that Becky was fallible and flawed, but she wrestled with her own sense of right and wrong, and considered her responsibility to her family and her community. Was this intentional on your part? Were you specifically setting out to counter popular fiction, to offer an alternative voice through Becky? Did it come from Mark Twain's own impulse to consider these questions and ideas about human values? Was it based in a particular religious or spiritual quest or relationship that is dear to you?
You know, I wasn't trying to teach any sort of lesson or preach about morality with this story, but I'm pleased that you got those things out of the narrative. I think that morality is a tricky thing that a lot of young readers think about more than we might give them credit for. Those years between ages 8 to 12 are really when our youth start to learn more about "right" and "wrong." They form their own opinions about those things, and they see that their adult role models are not immune to doing things that don't seem quite right. It's a confusing thing to have a growing sense of awareness that the adults leading your world don't always have the answers. There's a bittersweet freedom to that stage of life, and I think Becky Thatcher experiences some of those things in the novel.
Mark Twain's influence on my writing as a whole, and especially with this particular novel, is undeniable. His ability to bring up difficult subjects and hard themes that directly relate to society, and to do so with humor, is what makes him one of our greatest literary treasures.
The Actual & Truthful Adventures doesn't shy away from addressing other difficult or complex subjects, including the loss of Becky's brother, Jon, and Becky's subsequent strained relationship with her mother, who grieves the death of her only son. How did you balance respecting young readers, many of whom will have experienced their own painful losses, and not giving them more than was appropriate for the age readers the book is intended to reach? (Though I'm confident your book would be a wonderful read or listen for readers of any age, not just young readers.) Was this an aspect of your writing process you had to consider carefully?
I think young readers can handle more than many adults think they can. Young readers deal with difficult issues on a daily basis, from family deaths to mental illness/depression among those close to them. We live in a world that is, in many ways, more difficult and more stressful to navigate on an emotional level than previous decades/centuries, so I wasn't too worried about including topics and themes that were less "fun." With this story, I think that I tried to keep the pain the mother was experiencing to Becky's impressions, which limited the focus. Becky has found her own way to deal with the loss of her brother and while she grieves, she also finds joy and adventure in the world around her. Using her perspective was something that really allowed there to be what I hope is an authentic balance of serious issues and revelry.
The end of the book seems almost to leave open the possibility that we might not have seen the last of Becky. Is that true? Is this the start of a series? (Oh, please. No pressure. But really, please say yes.)
Wouldn't that be great! The ending does leave plenty of room for Becky to have more adventures, but no, there are no plans right now to extend Becky's story.
What did you read when you were Becky's age? What do you read now? Are there young readers you're close to that you asked for feedback?
Favorite books of my childhood (other than The Adventures of Tom Sawyer) were Katie John, The Boxcar Children, All-of-a-Kind Family (extreme love for that family), The Five Little Peppers and How They Grew, The Chronicles of Narnia, Roll of Thunder, Hear My Cry, Where the Red Fern Grows, Sideways Stories from Wayside School, Choose-Your-Own-Adventure books,The Hobbit, The Sign of the Beaver, My Side of the Mountain (and its sequel), and anything by Roald Dahl (I cried as a 10-year-old when I found out that he died because there would be no more Roald Dahl books). And, of course, Little Women and Anne of Green Gables. Oh, and I stole (woops, I mean "borrowed") a lot of my sisters' Babysitter Club and Sweet Valley Twins books.
Nowadays I find myself still reading lots of middle grade fiction, both because I love it and to keep up on what's being published. For adult books, I adore curling up with a Maeve Binchy novel or an interesting biography or nonfiction book a la The Tipping Point.
One of my critique partners teaches creative writing to girls from my target audience, and they gave me wonderful feedback on Becky Thatcher. I hope that they'll read other work for me as well!
Thank you, Jessica, for sharing your story and your heart with readers and listeners, and for sharing these thoughts with me. I hope this is only our first collaboration. I'll be eagerly anticipating your next project!
And now, my friends, just comment below for your chance to be awarded one of the dearest audiobooks I've ever worked on, The Actual and Truthful Adventures of Becky Thatcher. A winner will be chosen via Random.org on Wednesday, August 6th.